These are the 12 smiling faces of the Pontardawe Town Under 12s Girls team as they embark on their first competitive season in the West Wales Women & Girls League.   They certainly made a statement in their new pink Mando Solutions kit in their first game against Hendy with an impressive 17-0 win, followed by another outstanding performance in their second game, beating Johnstown 9-4 on their own ground. The girls are currently sitting top of the table with a plus 22 goal difference.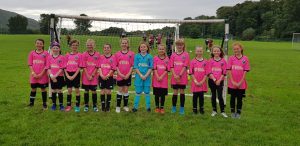 The girls' coach, Natalie Salter, said "On behalf of myself, the parents and the girls, thank you so much for sponsoring our team. The sponsorship has allowed us to purchase a new away kit for the girls. The new kit unites them and makes them feel like a team before they even step out onto the pitch. These young players are so hard-working and dedicated. They wear their new kit with pride. We are so grateful to you for making our girls feel like professional players."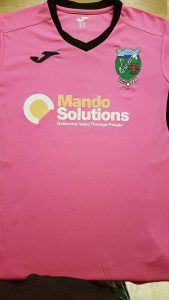 "We love our new kit!" – Pontardawe Town U12 Girls.
Great start to the season, girls.  We are so proud of you all and you look fantastic. We are looking forward to following your progress and wish you the very best for the rest of the season.